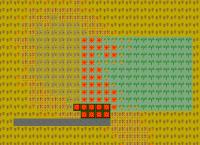 FireModel is a parcel for VisualWorks 5i Smalltalk which allows you to simulate a wildfire. (A non-commercial version of VisualWorks is available from the above link.) The spread of the fire is simulated using the McArthur models, developed for Australian bushland. FireModel is made available under the terms of the GNU LGPL.
Screenshots

The large-scale viewing, control and editing screen.


The small-scale map screen.


The weather control screen.

Download
User's Guide (The user's guide is also included in the FireModel download.)